Strathcona boasts an impressive list of local catering companies, dare we say the best in Vancouver! Whether you are planning a wedding, cocktail party, summer BBQ, networking event, board meeting, conference or just want desk-side lunch at the office, this list has got you covered.
Betty Baugette separates themselves from the pack by delivering delicious lunch options right to the side of your desk. Once your office is added to their desk-side delivery roster, they come by with fresh goodies the same day each week with no obligation to buy. They also cater corporate meetings and special events and have many delicious platters to choose from.
Large scale cocktail soirees are their specialty. Cocktails and Canapes will execute everything from venue design and decor, to entertainment, to the perfect food and beverage menu and they make sure your event is a smashing success. Their food menus are globally inspired, with locally sourced ingredients. And their craft cocktail menu is guaranteed to excite any mixology fan at your event. Their creative presentation and attention to detail is what sets them apart.
This family owned business specializes in desserts, cakes, and pastries for all occasions. Dolce Salani Bakery are one of Vancouver's top wholesale suppliers of baked goods, and they also take individual orders for weddings and birthdays. They can supply egg-less and nut free cakes and welcome personal touches, such as matching cake flowers to bridal colour schemes. With flavours like Belgian Chocolate Mousse and Lemon Cream Gateaux, their cakes are sure to delight any guests.
HAVE Culinary Training Society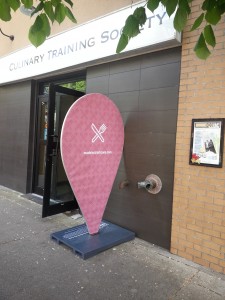 Have Culinary Training society is a unique organization that empowers disadvantaged members of the community through life skills, job training, and employment in the food service industry. Whether you dine at their café, or order from their affordable and quality catering menu, all the revenues they generate support the HAVE Culinary job training and placement program. Over the past six years they have successfully trained over 700 students with 75% of those students gaining steady employment in the tourism and hospitality industry.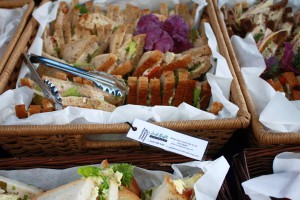 With over two decades of experience, Just Right Catering always delivers quality food and personable service for great value. They believe in using only the finest of west coast ingredients. From gourmet home style sandwiches to several delicious buffet menus, you are bound to find the right food for any occasion from their wide variety of choices.
Pacific Coast Catering Group is home to three unique catering choices: Bread Garden Catering for corporate functions, En Q Events for special occasions and Blue Ketchup BBQ, who specialize in throwing good-time outdoor barbeques. On top of their delectable food, this company is known for their great focus on sustainability. Any leftover food is donated to a variety of Downtown Eastside missions and they have a 95% diversion rate for the rest of their waste!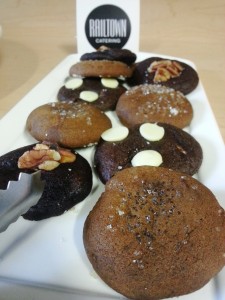 This passionate group are known for their creative presentation, delicious flavours, and providing a genuine service experience at both private and corporate events. They have a commitment to local food producers, and use Oceanwise seafood and free range eggs and meats. Vegan, vegetarian, gluten free and dairy free items are already incorporated into their menus, and they can tailor menus to dietary restrictions. P.S. Their Instagram feed will leave foodies inspired and salivating!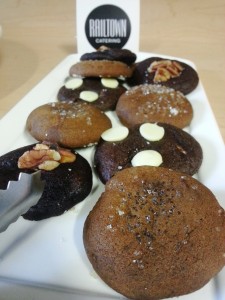 If you are looking for high-end presentation, gourmet flavour, and excellent service, Savory chef is your answer! This company focuses on fresh, local, and seasonal ingredients. They are known for their multi-course plated menus and elegant buffets. They are experts in event planning and execution and provide a full range of event services from rentals to setup to staffing needs.
Placing in the Golden Plate Awards for Best Catering Company for the last several years, The Butler Did It has established themselves as one of Vancouver's premiere caterers. From corporate events, to cocktail parties, to summer BBQs, to weddings, they do it all! They offer consistent service and high quality food with flair, all at a reasonable price. For group meetings we love their sandwich basket that comes with a wonderful variety of choices, like Jack Daniels BBQ beef, Mediterranean Veggie, and other gluten free and vegan options.
Baking since 1987, Trumps fine foods services major hotels, café chains, restaurants and grocery store chains with tantalizing wholesale desserts. They can also cater their desserts for events, and specialize in wedding and specialty cakes. They offer a variety of designs, shapes, sizes, and flavours so that you can design the exact cake that suits your needs. What's more is they are Certified Gluten-Free, Certified Halal, and Certified Kosher.