Meet The Maker: Orii Jewelry
Stephanie is the owner and designer of Orii Jewelry, a specialty jewelry brand with roots in Strathcona. She utilizes MakerLabs for creating her pieces where she has a quaint studio set-up with a gorgeous mountain view.
The daughter of an artist, Stephanie is also an artist at heart who studied design at university. Her story is one of inspiration and patience – that it's never too late to pursue your dreams.
You can find Orii Jewelry showcased in the MakerLabs shop and the handmade pieces can also be found online at oriijewelry.com
Learn more about Stephanie of Orii Jewelry below.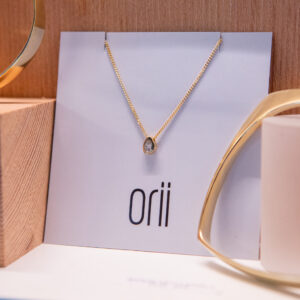 Tell us a little bit about your brand and what you make.
Orii jewelry is a miniature sculpture with a minimalistic aesthetic. Handmade in gold, silver and bronze, each piece is an abstract interpretation of elements from nature such as wind, water or geological formations. I use traditional metalsmithing techniques combined with computer-aided design.
How did you start your journey with design and when did you decide to turn your passion into a business?
Creating art has been my passion since I was a child. I grew up observing my father sculpting and painting in his studio. I was mesmerized playing with his plasticine clay, watching it emerge into new shapes. I later studied sculpture and industrial design at university. After my studies, I worked for a high-end jewelry store which led me to starting my own business about 7 years ago.

Where in Strathcona are you based and what makes this neighbourhood special to you?
Strathcona has a rich creative community with many diverse artists. My studio is in Makerlabs, an inspiring maker space with over two hundred members and many artist studios. 
How does your work impact the community?
Jewelry is more than an accessory. It holds sentimental value to the wearer and is often a symbol of commitment or something that holds a special memory. My designs communicate and connect on an emotional level with nature-inspired themes and visual language. My intent is to create heirlooms that embody memories that can be passed down for generations. 
Where can we find your products?
Visit my online shop oriijewelry.com or make an appointment to see my collection in person at my studio.
Related Posts