We are proud to announce Dine Railtown, a monthlong initiative that sees nine leading Railtown restaurants and cafés coming together to showcase the heart of a growing culinary community and to help support a community-serving organization.
Dine Railtown sees such establishments as Ask For Luigi, The Belgard Kitchen and The Mackenzie Room offer an exclusive feature from November 1 to 30 with proceeds from the sale of each item earmarked for programming at the Powell Street Getaway, one of 42 sites operated by the Lookout Housing and Health Society across Metro Vancouver the Fraser Valley and Vancouver Island.
The Powell Street Getaway at 528 Powell Street, is a peer-led resource centre that supports people living with chronic illnesses, addictions and/or mental health challenges. Funds raised from Dine Railtown will be put directly towards Powell Street Getaway programming and initiatives.
"We're proud of the owner-operated small businesses that have come to define Railtown as a true dining destination in Vancouver," says Theodora Lamb, Executive Director at the SBIA. "It's an opportunity for people to discover some of what this area has to offer through a culinary lens while, at the same time, building connections to the community in which these businesses operate."
An exciting highlight of the Dine Railtown initiative is the launch of a custom illustrative map drawn by local artist Tom Froese that highlights both well-known and hidden culinary gems located within the Railtown neighbourhood. The map will be available at all participating Dine Railtown locations.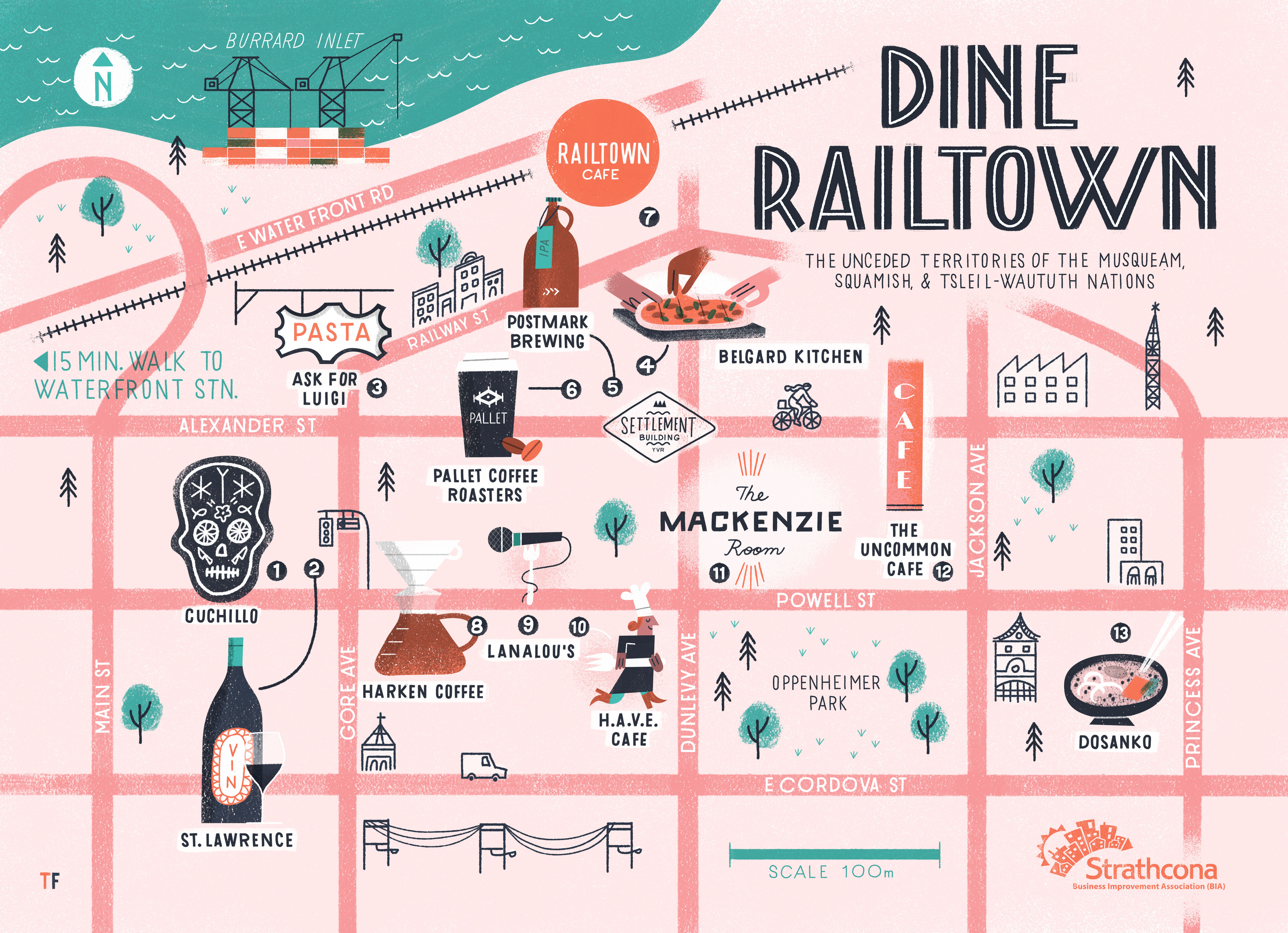 The full list of participating restaurants and featured dishes are as follows:
55 Dunlevy Avenue
Yam Gnocchi with Lamb Ragu  $19
braised pork shoulder, brown sage butter, sweet peas
305 Alexander Street
Fried Cauliflower and Chickpeas  $15
Herbs, spicy aioli, parmesan
261 Powell Street
Wild Caught Argentinian Sea Prawns  $24
Butter browned corn arepas, green apple jalapeño pipian verde
477 Powell Street
Braised Chicken Sandwich  $12
Homemade herb aioli and jalapeño jelly, brie cheese, applewood smoked bacon, crispy fried onions
397 Railway Street
Classic Beef Stroganoff Bowl  $16
Buttered egg noodles, flank steak, mushrooms, onions, sour cream
269 Powell Street
Escargots  $18
Garlic butter, puff pastry
395 Alexander Street
Feature Pourover Coffee and any 340g Bag of Coffee Beans  $20
415 Powell Street
Chicken of the Sea  $19
sea urchin parfait, burnt onion nectar, poached pears, hazelnut butter, squid ink brioche
362 Powell Street
Quinoa and Brown Rice Salad Bowl  $13
ginger tamari dressing, greens, grape tomatoes, avocado, beets, pumpkin and sunflower seeds