Let's talk crap.
Yes, we are talking about crap. It's as real as issues come. We're continuing to advocate for public washrooms, however, our neighbourhood needs to be kept clear of bio-waste while discussions about longer-term solutions are ongoing. Up until now, no service has existed for human and animal waste pick-up and removal. Usually businesses are on the hook to deal with it on their own.
That's where Mark and Elwood's new social enterprise The Crap Trapper comes in. They saw a need in the community and, in partnership with the Strathcona BIA, have stepped up to provide this valuable bio-waste pick-up service. And we couldn't be happier about it…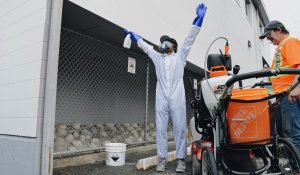 Here's Mark and Elwood during the first week of the pilot program. Equipped with all the proper safety and sanitation equipment, and a scooter to boot!
We're launching a 3-month pilot program.
We're proud to be partnering with The Crap Trapper to bring our members this valuable service. Several days a week, Mark and Elwood will be biking and scootering around the community, inspecting the hardest hit alleys and streets in the district. They'll be picking up human and animal waste, sanitizing and deodorizing affected areas, and tracking all of the data. They'll make sure all waste materials are properly disposed of.
On-call picks ups:
SBIA members can now request one-off pick-ups and clean-ups of human and animal waste, seven days a week, 8am-4pm.
To request a pick-up, call the SBIA patrol team at 604-789-4143. The Crap Trapper team will provide the pick-up service within 48 hours.
This pilot program is running until October 2020.
In their first four days of the pilot, The Crap Trapper team made 303 pick-ups which amounted to 139 pounds of waste collected. Next time you see Mark and Elwood out in the streets, give them a smile and a thank-you for the tough job they're doing in service to this community!
Support for Mark and Elwood's social enterprise comes through Embers Eastside Works, Employ to Empower, and Co-llective Marketing.