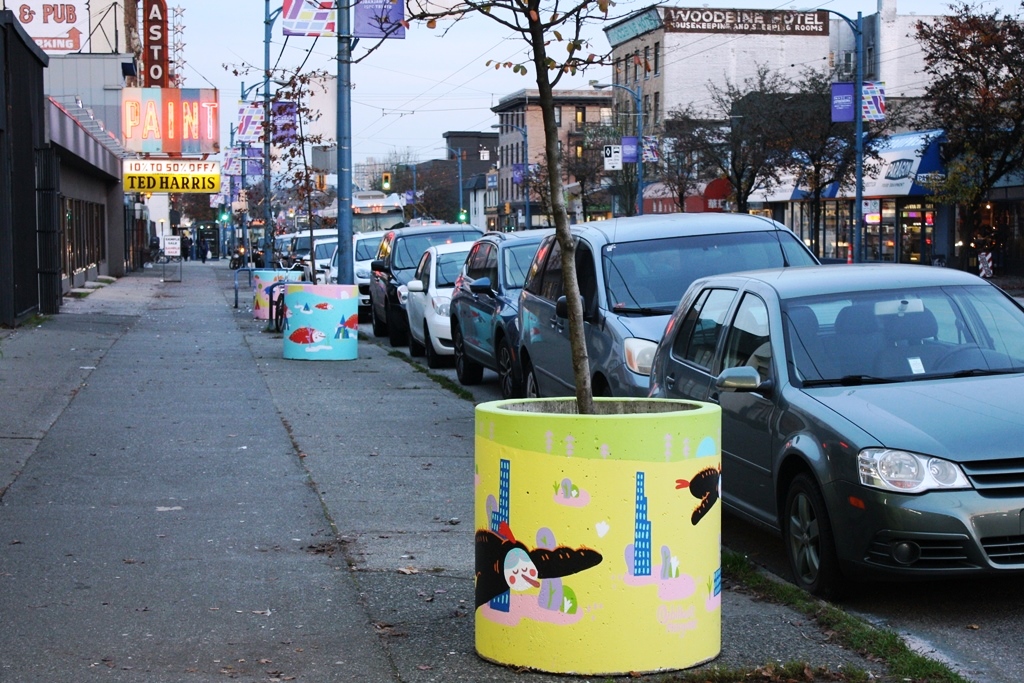 We're super excited about the new murals.
How we got here
Several Hastings Urban Tree Nursery planters from 2014 were in need of a refresh. In August we had an open call for artists to propose new mural designs. A selection committee made up of staff and Sustainability Committee members evaluated the proposals and shortlisted several artists. We brought the shortlisted designs to the organizations and businesses who participate in the HUTN program and engaged local community members about the artworks. This included presenting to the VANDU Board of Directors and providing them printed designs so people who use their space could vote on their favourite. We also attended the DTES Neighbourhood House community drop-in to present designs and gather feedback. Other businesses with tree planters out front submitted their thoughts through a short online survey. After collecting the feedback, four local artists were selected to paint brand new murals on nine tree planters along East Hastings.
The selected artists and final murals
Artist Jenn Brisson worked on two planters in the 300 block of East Hastings in front of VANDU. In her piece, titled "Only Human", energetic colours and patterns flow through two figures, creating the sensation of coming undone and together simultaneously. These patterns can be interpreted as waves, sound, energy or our Spirit. They show that we are all in constant flow; everything we do has a ripple effect on other people and we are all connected in this life. When writing about her experience with the project on her instagram page, Jenn wrote "Everyone was super supportive, friendly and expressed appreciation for what I was doing for their community". Read the full post at @jennbrissonart, and check out her awesome work. Jenn is also an exhibiting artist in the upcoming Eastside Culture Crawl at her studio at 617 Gore Ave.
Artist Cate Wikelund completed murals in front of the DTES Neighbourhood House at 573 East Hastings. Cate lives a few blocks away and has engaged with programming at the DTES Neighbourhood House, making the final selection for this project by her peers and community members all the more meaningful. In her design, two Great Blue Herons face each other across two planters, serving to bring the planters into a relationship and mirroring how these birds interact in the wild. The natural and realistic look of her design elicited a lot of positive feedback as Cate was working – she even got some shout outs from people riding by on the bus! What a wonderful addition to the block. Cate recently completed another mural project on a shipping container in Oppenheimer park, and co-led the "Resilience Community Mural" project at 121 Heatley Ave.
In the 600 Block of East Hastings, artist Andrew Tavukciyan completed two murals in his signature bold and intricate style. A colourful and striking paint palette on one planter is contrasted by a black and white biomorphic design on the second planter. Andrew felt it was important for the designs to wrap seamlessly and continuously around the cylindrical shaped planters to give the illusion of no start or end. We are totally digging his visual style! You can find more works by Andrew on his Instagram account at @tavukciyan.
Artist Morgane Billault worked on three planters in the 700 block of East Hastings. She incorporated bright colours and a marvelous illustrative technique to create three interconnected landsacpes. Three animals: the crow, fish, and coyote, inspired her designs that bring west coast elements together with human elements, drawing on the nature/urban theme of the Hastings Urban Tree Nursery itself. You can't miss these bright additions to the street! Discover more of Morgane's work on her Instagram account @billaultmorgane.
Acknowledgments
Thank you to all of the artists who applied to be a part of this project. And a huge thank you and congratulations to the selected artists. We appreciate your creativity, distinct styles, and especially your willingness to work through the colder October weeks to get these murals done before winter!
Thank you to the City of Vancouver for providing grant funding to cover the costs of the artists' paint supplies and materials as well as the cost of initial cleaning, priming and final sealing services by Goodbye Graffiti.
The artists fees are paid for by the Strathcona BIA.
Thank you to Mission Possible Maintenance who continue to maintain and upkeep the planters and trees on a monthly basis.
The Hastings Urban Tree Nursery (HUTN) is a joint project with Hastings Crossing BIA to bring greenery and beauty to East Hastings. The concrete planters house trees that grow under the care of local businesses and organizations. We look forward to replacing some of the damaged trees in the HUTN in late November.
Read More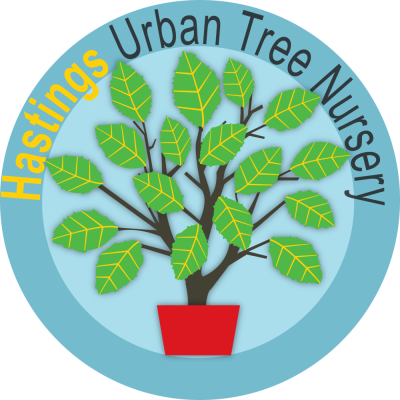 Our concrete planters need a refresh!
About the Hastings Urban Tree Nursery
Four years ago we helped launch the Hastings Urban Tree Nursery (HUTN), a joint project with Hastings Crossing BIA to bring some greenery and beauty to East Hastings. We installed a series of concrete planters housing young trees, that have grown under the care of local businesses and organizations. Additional HUTN stewardship is provided by local social enterprise, Mission Possible Maintenance. Local artists were commissioned to paint unique murals on the planters.
What we are looking for
We've loved our first round of HUTN murals from 2014, but 10 of our planters are in need of a refresh. We're inviting proposals from artists to re-paint our planters with marvelous new murals.
We would love to see works that engage with local community, heritage, culture, and natural elements. The works should enliven and enrich the Hastings corridor, while reflecting the values of the local community and the Strathcona BIA.
Examples of previous selected works:
The Details
Issue date: August 7th, 2018
Submission deadline: August 27th, 2018 by 5pm
Eligibility Requirements
This call is open to artists that reside in the Vancouver area. Indigenous artists and artists with ties to Strathcona are encouraged to apply. Artists who have previously completed works for this project are welcome to apply again. Artists must be able to complete the work before October 2018.
Planters and Associated Budgets
The area to be painted on each planter is approximately 113″ by 36″ (w X h)
Five artists will be chosen and each artist will be commissioned to paint the planters on one city block. Each selected artist will receive a base stipend of $400, plus an additional $200 for each planter painted. The blocks and program participants are as follows:
300 E Hastings Block, Vancouver Area Network of Drug Users – 2 planters ($800 allocated)
400 E Hastings Block, Vancouver Native Health Society – 1 planter ($600 allocated)
500 E Hastings Block, Downtown Eastside Neighbourhood House – 2 planters ($800 allocated)
600 E Hastings Block, Mission Possible – 2 Planters ($800 allocated)
700 E Hastings Block, Mikado Martial Arts, Pure Design Inc, Carscadden Stokes McDonald Architects – 3 planters ( $1000 allocated)
The SBIA will provide paint materials up to a maximum of $150 per planter. After painting, planters will be coated with a clear product to protect against graffiti damage.
The SBIA will work with the City of Vancouver to obtain any necessary permissions for selected mural proposals.
A selection committee will liaise with participating businesses and organizations to make the final selections by the beginning of September.
Submission Guidelines
Submit one proposed design for a planter painting (width to height ratio is approximately 3:1).
Submit an Artist Statement that introduces your work and the proposal submitted
Submit up to 4 numbered portfolio images of your work
Submit your resume
Include your contact information, including e-mail and phone number
Submit your proposal online using our Google submission form: Submit a proposal here!
You can also submit a proposal by mail or in person at the SBIA office (address below). Clearly distinguish the proposed planter design from portfolio images submitted. Please include a self-addressed stamped envelope if you wish to have your images returned.
Mail to:
1220 East Hastings St
Vancouver BC
V6A 1S6
We look forward to seeing your submissions!
Read More