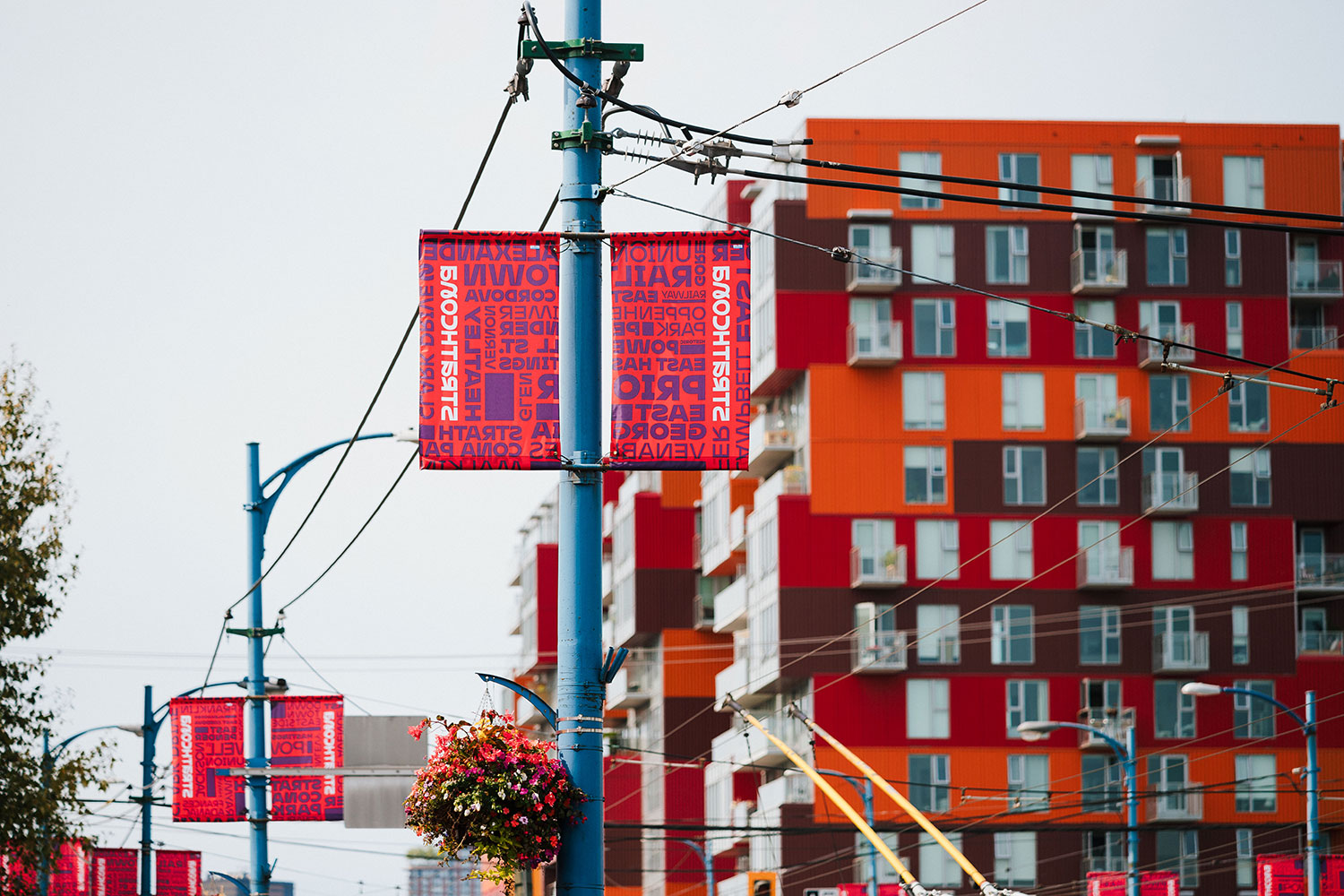 An update on where we're at with the new Strathcona business district brand.
Last fall the Strathcona BIA set out to refresh the Strathcona business district brand.
We were thrilled when local Railtown agency, Will Creative, answered the call to help develop our new brand. They brought on Stormy Lake Consulting, experts in public consultation and facilitation, to deliver a one-of-a-kind engagement event in the early stages of our process.
We want our new brand to be embraced by all people who work, live, and play in Strathcona.
Strathcona is a truly unique neighbourhood, and so we turned to the community to help define, preserve, and amplify that uniqueness.
As we approach our brand launch, we're taking a look back at the pivotal community engagement outcomes that helped build the foundation for our new commercial district brand.
Who did we engage?
We put a ton of effort in to get the word out about our November 4th Dinner and Dialogue event. We filled the room with over 55 people representing many diverse groups across Strathcona. This included business members in varying sectors, property owners, developers, partners from the arts community including Powell Street Festival, Vancouver Mural Festival, and Eastside Culture Crawl, community centres including RayCam and Vancouver Japanese Language School, community organizations including Embers Eastside Works, Exchange Inner City, and Coast Mental Health, Strathcona residents, and City of Vancouver planning staff.
Different groups were well spread out ensuring each table had a diverse mix of perspectives.
Over three hours, Stormy Lake Consulting led the table groups through a series of thought-provoking exercises and questions. Participants were offered a number of unique ways to engage ranging from writing, drawing, and storytelling.
What we heard
Community full of contrasts.
Strathcona reflects a deep and diverse history of cultures and people. It's also a place brimming with extreme contrasts. Strathcona's is a story of contrasts and tension between perspectives, identities, ideas, status, and districts.
What emerged is that the Strathcona BIA is in a unique position to build a bridge between these opposites, allowing each to maintain what makes them distinct while providing support for them to co-exist, grow, and thrive together. We can see these contrasts not as collisions but as opportunities for interconnection.
Strathcona is raw.
There is something evocative and visceral about Strathcona. Participants spoke about it being raw, unpolished, gritty, and rough around the edges- all of which bring forth a sense of tangible texture. This texture and tarnish is what makes Strathcona resilient, authentic, and human. It's embraced by the community and it must stay.
Strathcona is hardworking.
This community is industrious, adaptive, and persevering. Strathcona is built on a foundation of sleeves rolled up and getting work done. People have always come here to build something, whether it's their home, their rights, their business, or their community. Even as the neighbourhood evolves, there will always be a working class spirit that thrives here. If you're here you're living and working damn hard.
Strathcona embodies diversity.
Here, people are encouraged to be human, to expand their worldview, and challenge their preconceived notions. It's why a major food distributor and a just-out-of-school maker can both feel they belong here. People from all backgrounds and walks of life are able to coexist. While this level of diversity is a source of tension and contrasts, our diversity is one of our biggest strengths. When we connect, combine, support and strengthen one another without sacrificing what makes us individually unique, this allows us to grow and thrive as a community.
Strathcona thinks differently.
Strathcona is home to those who don't quite fit anywhere else. Strathcona is a complex, diverse, and challenging place that attracts those who are curious, inventive, non-conformist, and truly creative. Strathcona has always been and continues to be a centre for criticism of powerful institutions – a place of rebellion and resistance.
Strathcona is described as an attitude and way of being. It's not "I'm from Strathcona", it's "I am Strathcona".
What's happened since then?
We took everything we heard from the community and got to work. Following our community engagement event, additional stakeholder interviews with SBIA members took place. Building on the sentiment and findings from all of the community engagement, the Strathcona BIA Board of Directors took part in a full-day Brand Definition workshop. From there, we worked with Will Creative to build out a brand strategy and an amazing new visual brand that we can't wait to share soon.
Consultation with First Nations
The Strathcona BIA operates on the unceded territories of the xʷməθkʷəy̓əm (Musqueam), Sḵwx̱wú7mesh (Squamish), and sə̓lílwətaʔɬ (Tsleil-Waututh) Nations. Their cultures and economies have shaped the community since time immemorial and remain an integral part of the Strathcona community. As part of our district placemaking work, we are eager to explore opportunities for place-based Indigenous storytelling related this land and for bringing attention to Indigenous place names within Strathcona. To help guide us in this work, we sought the expertise of Khelsilem, a Squamish First Nation Councillor and resident of Strathcona. We are so grateful to Khelsilem for providing us with a clear road map on further engagement and relationship building that needs to take place with the Musqueam, Squamish, and Tsleil-Waututh Nations, before the inclusion of Indigenous history, identity, and presence can be incorporated into placemaking opportunities stewarded by the Strathcona BIA. This is a crucial step in the start of our journey towards truth and reconciliation, and how we can play a part in bringing Indigenous histories and stories forward in the district of Strathcona.
What's next?
We're working on all the ways in which this new commercial district placebrand will come to life, in the streets, and across digital platforms. We're getting close to being able to share it with our members, our community, and the world – and we are so excited. We can't wait to engage our membership and wider community in brand activation opportunities. We can't wait to bring Strathcona to the hearts and minds of people across the lower mainland and showcase our district. And we really can't wait to replace our community banners with a look and feel all of Strathcona can get behind.
We acknowledge that this work of place branding and placemaking is never neutral. To the best of our ability we will try to center community-based sentiment and knowledge from the full diverse spectrum of Strathcona community members to drive our placemaking work for the Strathcona commercial district. If you want to connect with us to talk about this or about any of the engagement leading up to our brand launch, please be in touch with johanna@strathconabia.com.
Read More